About Berlin City Ford
Berlin City Ford is the easiest place to shop, explore, learn and get help. We're passionate about your customer satisfaction, and not just because it's expected, but because that's what were all about: neighbors taking care of neighbors and doing it the easy way.
We are your Ford Car Dealer and Used Car Dealer in Gorham, NH. Berlin City Ford has great deals on new and used Ford cars and SUVs. Easy includes Pre-Discounted Pricing based on market value of similar vehicles, Door to Door - your vehicle delivered to you within 24 hours, No questions return if you're not satisfied within 4 days or 200 miles, Pre-Owned Protection - if your pre-owned vehicle needs repair within 60 days or 2000 miles bring it in. We'll fix it.
We provide Ford Sales, Service and Parts to Gorham and the surrounding neighborhoods including Berlin, Conway, St Johnsbury, Montpelier, and Plattsburgh.
To learn more about how Berlin City Ford, serving Berlin, Conway, Gorham, Littleton and Lancaster, is dedicated to making your life easier, please contact us. Or better yet, stop in and meet us in person at 485 Main Street, Gorham, NH. We hope to have the pleasure of meeting you soon.
Please do not hesitate to contact us with any questions you may have. Our staff is happy to answer any and all inquiries in a timely fashion. We look forward to doing business with you!
Dealer Info
Mon - Fri

9:00 AM - 6:00 PM




Sat

9:00 AM - 5:00 PM




Sun

Closed
Mon - Fri

7:00 AM - 5:00 PM




Sat

8:00 AM - 12:00 PM




Sun

Closed
Mon - Fri

7:00 AM - 5:00 PM




Sat

8:00 AM - 12:00 PM




Sun

Closed
Mon - Fri

7:00 AM - 5:00 PM




Sat - Sun

Closed
Press and Announcements
Bigfoot in Gorham, NH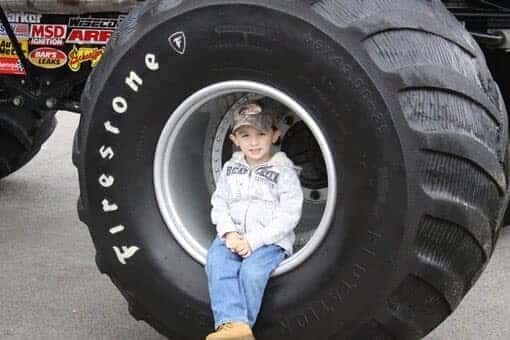 Thanks to all who came down to see Bigfoot this week in Gorham!
And a VERY BIG CONGRATS to the lucky winners of our drawing:
$500 American Express gift card – Danielle Roy of Berlin
4 New Tires ($400 value) – Nancy Gordon of Gorham
Installed Remote Starter – Diane Lebrecque of Berlin
40" Flatscreen TV – Paul Gallant of Berlin
Berlin City Toyota T-Shirt winners:

Sara Dube of Intervale
Priscilla Couture of Berlin
Brian Poulin of Turner, ME
Arlene Tanguay of Gorham
---
Berlin City Auto Group Celebrates 30 Years in New England
PORTLAND, Maine–(BUSINESS WIRE)
Berlin City Auto Group is celebrating 30 years of business in New England this month. The dealership was founded in 1980 as a single store in New Hampshire and today consists of six dealerships located in Portland, Maine; Gorham, N.H.; and Burlington, Vt.; with 19 franchises including Toyota Scion Lexus, Nissan, Honda, Chevy, GMC, Buick, Ford, Mercury, Chrysler, Dodge, Jeep and Kia. Berlin City kicks off its 'Big 3-Oh Sale' today, which runs through Labor Day. During the sale, customers will be able to triple their down payment, up to $1,000, to put towards the purchase of a new vehicle. For example, if someone puts down $1,000, Berlin City will match that and add up to $1,000 in manufacturer's bonus cash.
"We deliver more than 40 percent of our inventory anywhere in New England. Our motto, 'over the top care' isn't a sales gimmick, it's just the way we do business"
Two Employees Still Here 30 Years Later
"There is so much history and heritage in New England, both in our stores and with our employees," said Yegor Malinovskii, Berlin City's market president. "We have two employees that have been with us since the beginning and 17 employees that have been with us for 20 or more years. Our employees are the backbone of our company and the reason why we've been able to sustain and grow our business over the last 30 years."
Auto Group Grows, Builds New Dealership
Berlin City has experienced steady growth and marked several milestones in its 30-year history. Recently, the company celebrated the expansion of its Toyota Scion Lexus dealership in Portland, Maine, which was completed in late 2009. The expansion included the purchase of two acres of adjacent land, adding more service bays to the existing service center, as well as the addition of 275 spaces for additional vehicles, increasing inventory display space by 20 percent.
In addition, a new Berlin City Honda facility will break ground in October in Portland and is slated for completion in fall 2011. The 27,000-square-foot, state-of-the-art service and sales facility will be three times larger than the existing facility and once complete will add an additional 20 to 30 jobs. Berlin City also plans to remodel its Gorham, N.H. Honda/Nissan/Toyota facility in 2011 to give it a modern and fresh look.
Convenience and Service Drive Success
"We may service small towns in New England, but we offer the conveniences of a big city," continued Malinovskii. "From our four-day/200 miles no questions asked return policy, and our lowest, most competitive price within four days of purchase, to our door-to-door delivery service, we really try to go above and beyond to make the car buying process easy and convenient for our customers."
Berlin City offers door-to-door delivery throughout New England, which was introduced in 1983 to make car buying even easier for New Englanders. The company employs nearly 75 drivers that make daily deliveries from Maine to New York. Transactions are completed over email and via phone, eliminating the need for a customer to travel far distances to purchase a car. "We deliver more than 40 percent of our inventory anywhere in New England. Our motto, 'over the top care' isn't a sales gimmick, it's just the way we do business," added Malinovskii.
Drive for Education: Supporting the Local Community
New this year, Berlin City plans to roll out a 'Drive for Education' program later this month at all locations. The company will donate a portion of proceeds from every car sale to local schools, at-risk youth and other kid-focused charities, with a goal of raising at least $100,000 annually. Berlin City regularly supports the communities in which it serves, from sponsorships to blood drives to fundraiser car washes.
About Berlin City Auto Group
Berlin City Auto Group consists of six dealerships in New England, located in Gorham, N.H., Burlington, Vt. and Portland, Maine. The company sells Toyota Scion Lexus, Nissan, Honda, Chevy, GMC, Buick, Ford, Mercury, Chrysler, Dodge, Jeep and Kia. Berlin City offers a four-day/200 miles no questions asked return policy and the lowest, most competitive price within four days/200 miles, door-to-door delivery service throughout New England and pre-owned protection on certified pre-owned vehicles within 60 days or the first 2,000 miles.
---
Small-Town Store -- Big Sales
Catalogs, delivery service attract faraway customers
To outsiders, the Berlin City Auto dealership in Gorham, N.H., may seem like it's in a limited market. It's in a rural area with about 13,000 people nestled at the base of the White Mountains, where winters are snowy and cold. And the local economy is reeling from the closure of two paper mills in recent years. But the dealership, with 10 domestic and foreign franchises, mostly has thrived for a quarter century -- currently with a business model developed more than a decade ago and turbocharged by the Internet age. The dealership leapfrogs the local market by using color catalogs to build a customer base as far as 12 hours away in Vermont, Maine, New York and Massachusetts. As a result, about 40 percent of vehicle sales are to customers who use phone and e-mail to discuss purchases while never setting foot in the store. Berlin City Auto also combines aggressive pricing with personal services such as delivering cars and picking up trade-ins. A number of long-distance customers who were drawn to the store by word-of-mouth now sing its praises.
"We have lots of car dealers in our area, but none can offer the deals and service of Berlin City," says Gordie Little, 72, a journalist who lives four hours away in Morrisonville, N.Y. The entire five-store Berlin City Automotive Group in New England relies heavily on long-distance sales. It consists of the Gorham store run by Watson; a smaller General Motors outlet a mile away; two dealerships in South Portland, Maine; and one in Williston, Vt. The group's owner, Summit Automotive Partners in Denver, is considering expanding the marketing technique to all 15 of its outlets in Colorado, Tennessee and New England. The controlling partner at Summit is George Gillett, an American businessman who once owned the Montreal Canadiens professional hockey team and now owns the Liverpool professional soccer team in the United Kingdom and the Richard Petty Motorsports NASCAR auto racing team.
Crossing the mountains
How Berlin Auto City attracts customers from several states
Weekly inserts in 26 regional newspapers
Used vehicles posted online
Part-time drivers who deliver vehicles
Follow-up contact by phone and e-mail
Berlin City Auto, which has 107 full-time employees, relies on an unusual mix of workers. It draws on a free-lance squad of three dozen drivers who deliver vehicles to customers' homes, collect their signatures on the contract, and drive trade-ins back. Little, whose extended family has bought about two dozen Toyotas from the dealership over the last decade, has never visited the New Hampshire store. "You negotiate by phone for a few hours and then they say, when do you want it -- tomorrow?" Little says. "Come on, how can you beat that? They come to your house, you sign the paperwork at the kitchen table over coffee, and they drive your used car away." After the delivery, customers have four days to change their minds and request a pick-up, though that rarely happens, Watson says. Most drivers are retirees from the local area. They are equipped with GPS systems and are given the option of staying in motels on overnight drives. "I do it to keep busy," says Rodney Sawyer, 75, a retired real-estate broker who is paid the minimum wage for driving as many as 12 hours in a single day and 40 hours a week. "Driving to me is simple, and there's usually no traffic to speak of."
The store also has four full-time workers who produce a 20-page tabloid each week that is tucked into 26 New England newspapers, such as the Burlington (Vt.) Free Press and The Conway (N.H.) Daily Sun. The catalog consists of hundreds of color photos of new and used vehicles, along with capsule descriptions and prices. The dealership also posts online photos of every used car for sale.