Ford Blue Advantage: Confidence at Every Turn
Experience the benefits of Ford Blue Advantage! Each Ford Blue Advantage vehicle features a limited warranty, multi-point inspection, 24/7 roadside assistance, and FordPass™ Rewards Points.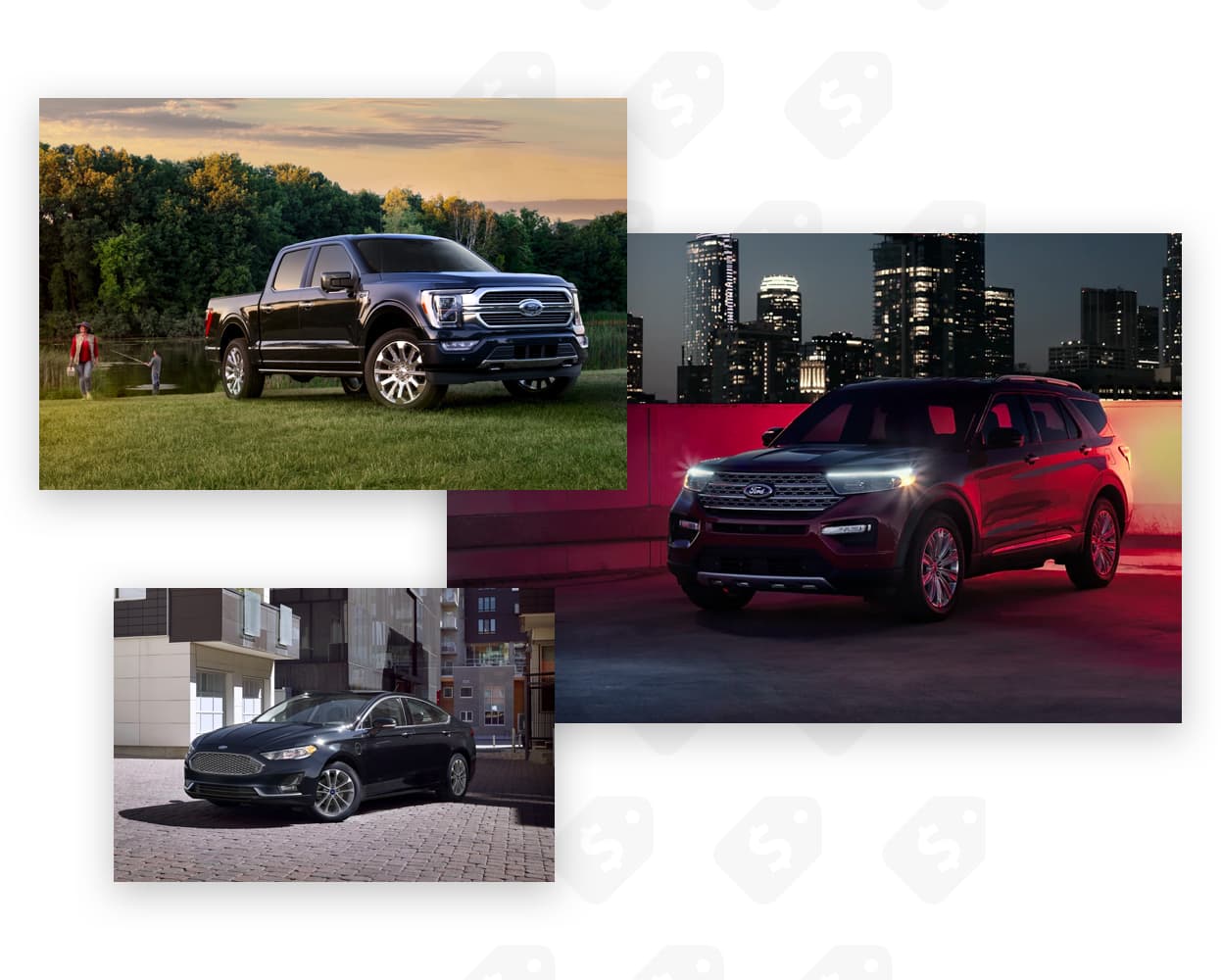 Take Advantage of This Month's Current Offers
Every month Ford releases incredible cash-back offers and special financing rates along with discounts featured in other special programs.
We're Here For You
Berlin City Ford always puts customers first!
Don't take our word for it: Read our reviews and see what everyone is saying.
We were able to get rid of our truck and were able to purchase a newer Ram with all the comfort I needed with my injuries. Got rid of the lease with equity for the new one. Leases have gone up a lot but purchasing was our best bet. Dennis was very helpful and pleasant to work with. Really like the new Ram!!!
Very happy with our purchase. Berlin City and Dennis were both a pleasure to work with. We will definitely recommend this dealership.
They were all great to deal with very friendly and enjoyable to work with thanks
Sales team was very accommodating, friendly and professional. The add-ons I requested for my truck or installed the same day, great job by their mechanical staff. The delivery driver that brought me my truck was very friendly and explained all the paperwork very well.
Excellent and quick, I got there and got what I wanted everyone was so helpful and the deal was so easy! Thanks to Cliff Scott and his crew for the all the help and making the experience painless!
Great experience! Would definitely recommend to my friends in the future! Appreciate the ease of buying my new truck.
Great service friendly staff Is able to find an appointment for me that worked around my schedule
The dealership is Very accommodating, fast service. Comfortable, clean waiting area, with refreshments. Great experience
Great customer service , excellent at keeping me informed and followed through on everything they said they would do.
Brought my Jeep in for some work,took a little longer than expected,and they gave me a loaner,so I can get home. They kept me posted at all times. Good service. No complains.
Not only did they have the best deal out of 6 other dealerships, they bent over backward to make the deal happen.
Came in with my son to trade in my 2016 Ram 1500 for a new 2021 Ram 1500 Big Horn. Tom made the experience simple and painless told him I was using this as an educational experience for when my son bud his first car in the next two years and Tom explained the ins and outs of the car buying process to my son. In the end Tom got me a great deal on my trade and my son and I got to drive away in a brand new truck.
Been a long time customer at Berlin city they make a car buying experience so easy
The first two purchases through Berlin city were great. My latest interaction however made up my mind that I will never purchase here again.
We have purchase several vehicles from Berlin City Auto with excellent service. Jeff did a great job
I had the pleasure of working with Mark Bisson. He is attentive to his customers needs and will take the time to explain the features and how the car works with you. I would recommend him to anyone looking to purchase a vehicle. He is a great asset to Berlin City Nissan.
I had the pleasure of working with Mark Bisson. I would definately recommend him to anyone looking to purchase a new car. He takes the time to go over everything with you and is willing to answer any questions. It truly was a great experience buying my new car . He is an asset to his company.
It was a blessing finding Berlin City. I found a great salesman in Tom Doyon. And, I found the exact vehicle I wanted. I stopped in on a whim and it was more rewarding than I could've imagined. After test driving a different vehicle, I knew I was ready for another 4 Runner. Tom, and his team got me top dollar for my used vehicle. My new 4 Runner is almost identical to what I had been building on Toyota.com. So, I came away with a wonderful experience. I was able to do all of the leg work by phone, and Tom had my vehicle delivered to me in Maine, when it arrived from the factory. The paperwork came with the driver and we were able to wrap things up in my kitchen. I couldn't have asked for better experience.
We have dealt with Tom Doyon for several years now and found him to be the way a salesman should be. He is courteous very respectful and listens. Not a pushy or pressure gentleman. He understands our needs and try's to do what is best for us. We are very satisfied and will deal with him again.
Steve, Tom and Mark made the buying experience stress free. We had all our questions answered and were made to feel at home. the process is streamlined and the peperoni pizza was was amazing.
Tom Doyon has been our salesman for approximately 10 years now. We are frequently flyers at Berlin City, having purchased at least 10 different vehicles through Tom, ranging from Toyota, Chevy, and now Ford. As always, Tom makes the process incredibly easy and always delivering on exactly what we want. I have successfully recommended Tom to countless family and friends!
I just purchased my first car through them yesterday I had Jeff as my salesman he was absolutely wonderful. The process took a long time but he was thoughtful and kept asking if I needed a drink or the restroom and apologized overall I had a great experience.
Had an amazing car-buying experience. Jeff was attentive to my needs, and helped me drive home in exactly what I was looking for. Dont waste your time anywhere else, go see Jeff and Berlin City for your next vehicle, you wont be disappointed!
Had a very pleasant experience. There was zero pressure from anyone I dealt with. I was in & out in about 2 hours with the truck I wanted.
Efficient, responsive, friendly and conscientious about keeping customers informed and comfortable. Facilities are clean and work-friendly if you wait during service.

Welcome to Berlin City Ford
About Berlin City Ford in Gorham, NH
Located in Gorham, NH, Berlin City Ford also serves the Littleton and Lancaster areas of NH with a stress-free sales experience and a finance department that can find financial solutions to save you money and fit within any budget or credit situation.
Berlin City Used Cars
Berlin City Auto Group has three used car dealerships in New England: Portland, Maine; Gorham, New Hampshire; and Williston, Vermont. So, if you're in the market for a high quality, reliable and affordable used car, you've come to the right place. Whether you're shopping around for a heavy-duty pickup truck, a sporty two-seater, a family sedan, or a rugged SUV, we've got the vehicle for you. Buying a used car isn't always easy, at Berlin City, we make it Easy.
Berlin City Truck Center
WE KNOW TRUCKS. You won't find a stereotypical truck-buying experience. What you will find is the largest collection of brands, models and trims in New England. With over 10 brands all under one roof and over 375 trucks our Truck Experts will work towards giving you the best possible truck experience. Because it may look like a truck business, but it's really the people business. And for us, that is a big deal.
Easy Exchange Program
Berlin City Ford is taking its Easy approach to a whole new level. We have a huge selection of new and used vehicles all with great financing, low monthly payments and little or no money down. Right now, trading your current vehicle has never been smarter or easier. That's why we developed the Easy Exchange Program.
Contact Us
Berlin City Ford
485 Main Street
Gorham, NH 03581
Sales:
603-782-0747
Service:
603-239-3358
Parts:
603-826-6610
Directions